Washington Arts Festival
Washington Park District Fine Arts Festival Cancelled
It is with regret that we are announcing the cancellation of the 2020 Washington Fine Arts Festival. Safety during the event, the artists in attendance, patrons and volunteers was of our utmost concern. We looked at possible modifications and after discussion with local officials, evaluation of expected artist attendance, and possible event changes we feel this was the best option and hope that you can understand our difficult decision. We look forward to the future when we can safely provide these and other such events for Washington and the surrounding communities.
___________________________________________________
We have over 55 juried artists at our show. We will offer these fine artists, live music, childrens activities, live artist demonstrations, caricature artist, food, wine and beer tasting, and more.
Show hours will be: Saturday, Aug. 15th from 10am-5pm & Sunday, Aug. 16th from 10am-4pm.
Artist setup is Friday 3:00-7:00pm, and Saturday 6:30am-9:30am.
To stay up to date on the status of the show, feel free to visit & like us on Facebook at https://www.facebook.com/WashingtonParkDistrict/ or follow us on Twitter @WashILPark
Feel free to share this poster through social media outlets and print copies as needed.
Check out the schedule of events for the Arts Festival -

Artist List and Map -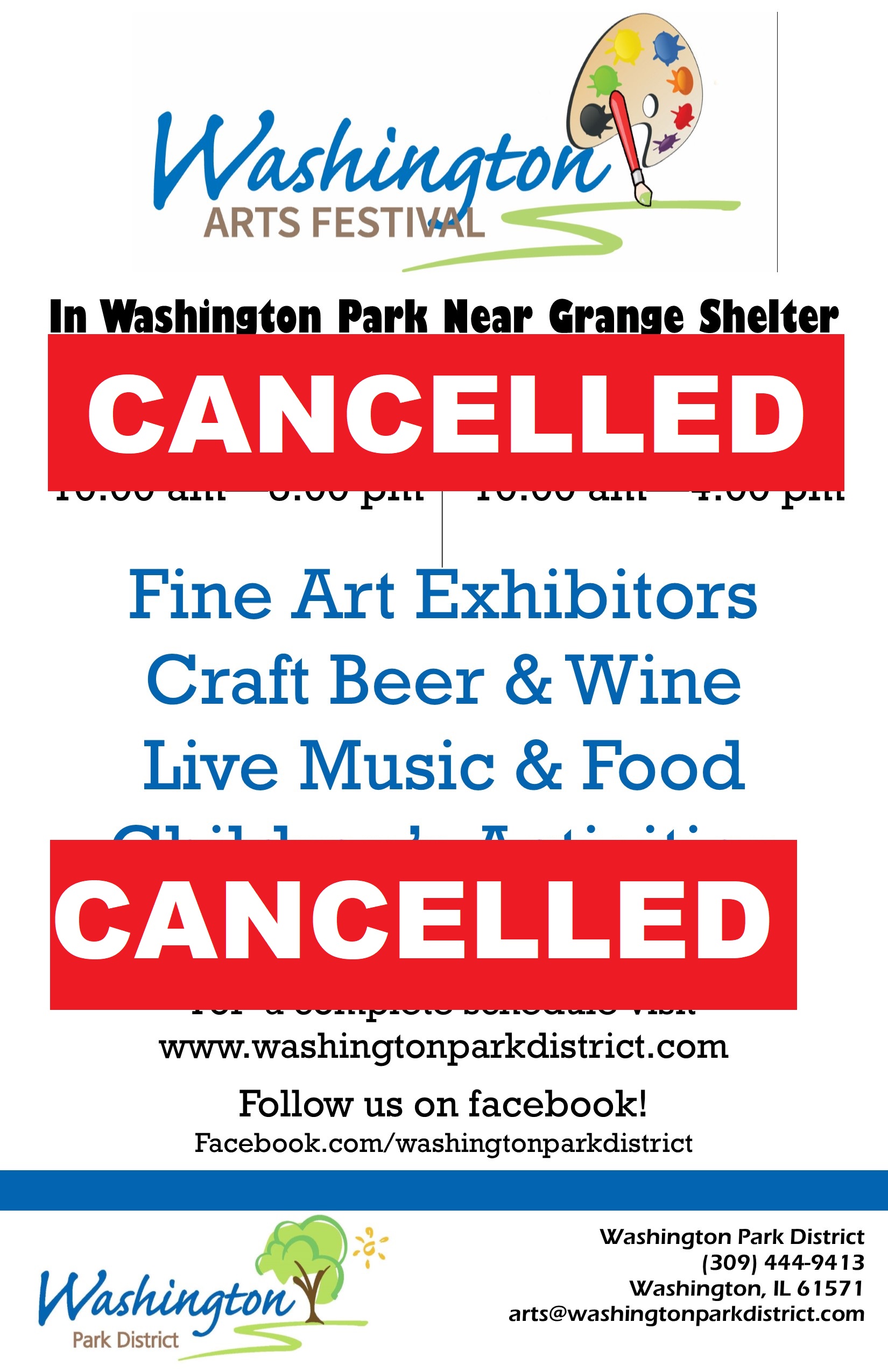 To submit an application as an artist, you have three options.
1. For mail in registration, please fill out the forms below and mail them in with payment.
2. To signup online, login from the lower right side of our homepage and register using code 3-6800-20. Please email the filled out forms and appropriate photos for the jury to arts@washingtonparkdistrict.com
3. Come to the Washington Park District Office during our regular business hours.

Artist_Registration_Letter_2020.pdf369.77 KB

2020_Artist_Qualifications.pdf330.66 KB

2020_Artist_Registration_Flyer.pdf327.1 KB
Questions: Call the Washington Park District at (309) 444-9413
Email: arts@washingtonparkdistrict.com
Where to send signup information:
Washington Park District
Attn: Arts Festival
105 S. Spruce Street
Washington, IL 61571
Ways to sign up:
• In person at office
• Mail check with appropriate paperwork to be juried
• Online at www.washingtonparkdistrict.com, then attach your appropriate documents to an email or mail documents in.
To signup online, go to the homepage and in the lower right corner is a login. You will need to setup and account with us. Once you have done this, go to programs and enter the code 3-6800-19. There you can pay the fee for the space you would like to have.
Please be sure to mail or email in the appropriate forms to us.
Interested in volunteering for the event? Please send an email to arts@washingtonparkdistrict.com and put volunteer in subject of email or

Arts_fest_volunteer_form.pdf132.88 KB and return it to the Park District office.